For the October 2017 Adult Night at LEGOLand Discovery Center Westchester, the center was decked out for Halloween.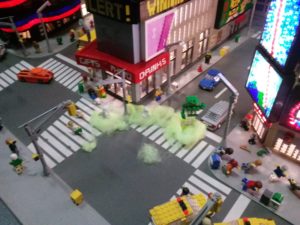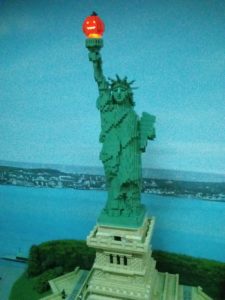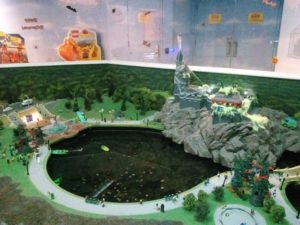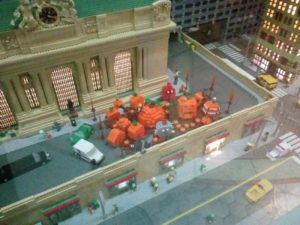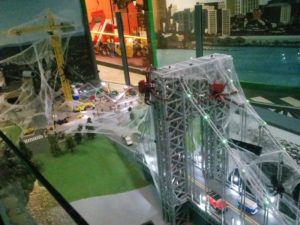 Halloween-themed builds were scattered all over Miniland as well as cobwebs here and there. There were two scavenger hunts with riddles you had to solve by finding certain minifigures or objects with an accompanying letter.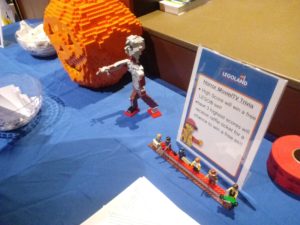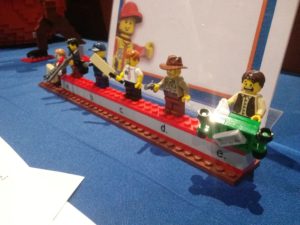 There was also a horror movie quiz. One of the questions was to guess which film/TV show each of the five minifigures were representing. The five were Ash (Evil Dead 2), Peter (Dawn of the Dead), Shaun (Shaun of the Dead), Rick (The Walking Dead), and Lionel (Dead/Alive aka Braindead). The prize for the highest score was tied between myself and one other attendee (finally that film degree paid off) and we each got a damaged-box 60143 Auto Transport Heist as a prize.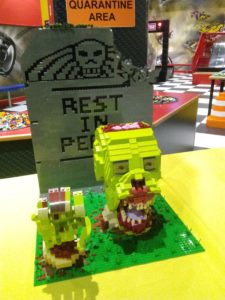 Some Halloween-themed builds on display as well as a signed photo from the late George A. Romero.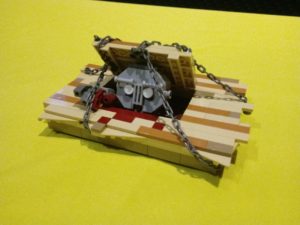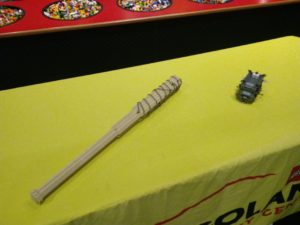 The three build contest prizes were a vignette of the cellar zombie from Evil Dead, "Lucille" from The Walking Dead, and the fortified van from Dawn of the Dead.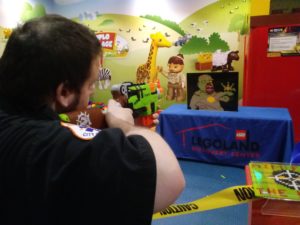 A zombie target practice station let you test your Nerf accuracy.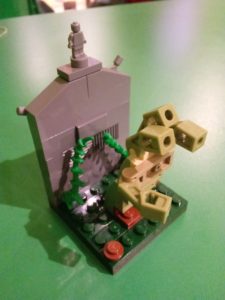 The guided mini build was a zombie rising from the grave. It featured a dark gray minifig trophy and a good selection of both dark green and olive green elements. This was free to take home.
Other activities included a photo station where you could pose with life-sized prop weapons for charity and a haunted house walkthrough complete with zombie jump-scares.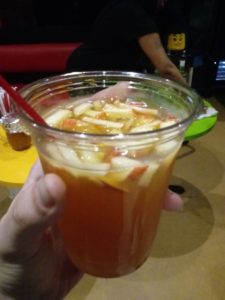 The featured item at the cash bar was an apple cider sangria, which was quite good.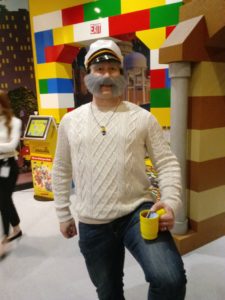 Brian G dressed as the ship captain from the Old Fishing Village LEGO Ideas set. Murphy "dressed up" as a paramedic and Mike B dressed up as a $20 Boba Fett. The costume contest winner went to an attendee dressed as Emmett from The LEGO Movie.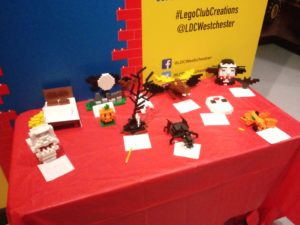 The build contest had quite a few entries. Builders stood around a table of mixed brick and had 15 minutes to make something Halloween-themed.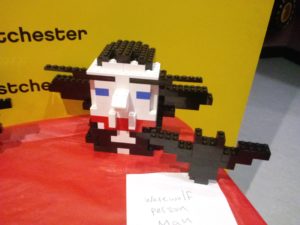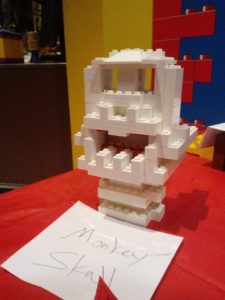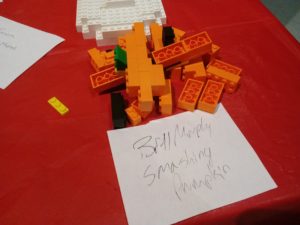 Murphy came in third place with a smashing pumpkin.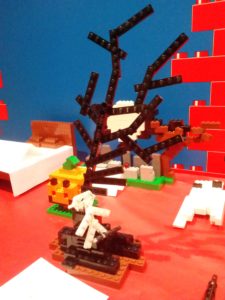 Second prize was a dead tree with spirit.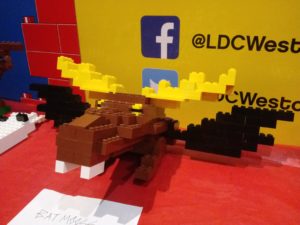 First place went to Xavier for his bat-moose.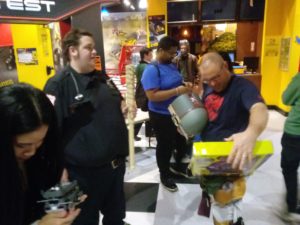 Mike B won the raffle prize- a damaged box Scooby Doo Mystery Mansion.
The LLDC store was open during the event and our members bought an assortment of polybags and sets that would otherwise be difficult to track down. Annual pass holders get a 10% discount in the store.
There was a pretty solid turnout.  Five LUG members and around 20 other local adults. We may have recruited a couple of potential new members.
It ran from 7pm to 9:30pm, which was half an hour longer than usual. The LLDC staff clearly put a lot of effort into the event and it resulted in a very successful evening.