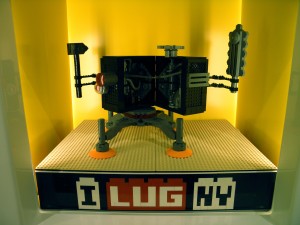 In honor of the LEGO Movie (in theaters February 7th), we decided to build a micromanager. But not just any micromanager, this is a quadruple-sized version of the monthly mini-build giveaway (available in LEGO stores on February 4th).  So it's a mega micromanager monthly mini-build.
If that wasn't enough, the body  splits in half to reveal all kinds of robo-guts!
See it during February at the Westchester LEGO Store in White Plains, NY.